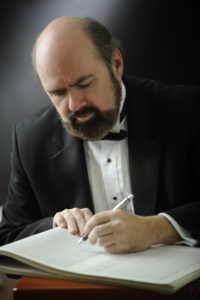 Composer, pianist, producer George M. Atwell has led a varied and eclectic career in music.
• Classically trained in piano and organ
• Staff producer, arranger and conductor at major recording studios
• Affiliated with BMG/Universal Music
• Composer of engaging, authentic and expressive music
His compositions have been performed throughout the world on film and television. A sampling of recent concerts, recordings, or broadcasts include:
The Bach Festival Society of Winter Park, Florida, White Heron Chorale,  Carnegie Hall, National Public Radio (NPR), American Choral Directors Association (ACDA) Southern Region conference, "Gimme a Break" (TV syndication), Studio Fontana, Slovakia, Intersound Muzikverlag, Germany.
Mass for the Future grew out of a lifelong fascination with technology and how it continues to impact our lives in an ethical, moral, and artistic sense.
Affiliated also with ASCAP, League of American Orchestras, ACDA, Chorus America, AGO